Hi guys! Thanks so much for your sweet comments and messages of support
on Tuesday
as I tackle this challenge of lowering my cholesterol and changing the way I think about food. (Food is to nourish my body, not comfort.)
I sometimes struggle with what to share when I blog. I wonder if I'm sharing too much. But then I think that if I am real and share how things are, maybe it'll help someone else? I know I'm not the only one out there that stress eats and could benefit from some healthier eating habits. Unfortunately it took me to go to a doctor and see actual numbers to make me decide to change.
I wanted to give you a little update of how the last two days have gone. It was great! I survived! Mind over stomach, right? I've been trying to drink more water and that has helped me not feel like snacking.
I went to the grocery store and came home with tons of yummy, heart healthy food that I am excited to eat! I actually do love healthy, fresh food, sometimes I was just too lazy to get it out, cut it up, etc. It was easier to just grab a fresh baked cookie (my downfall!) or a handful of goldfish or pretzels with the kids. Or mindlessly munch on something crunchy (like chips) while checking out social media on my phone when I finally have a few minutes of quiet time.
Here's some of the healthy stuff that I came home with from Winco...
Fruit:
Kiwi. Yum!
Apples (have you tried ambrosia apples? My kids love them.). I love small gala apples too.
Bananas
Blueberries (my new favorite fruit...I never ate them growing up but now I love them.)
Lemons (to make lemon bars with on Sunday...all things in moderation!)
Bulk foods: I am so glad I get to shop in WINCO'S bulk section. It is AMAZING! I'm sad that I've lived most of my life without it.
Brown basmati rice. (Cooked some last night for dinner, but I didn't really love it.)
Quinoa.
Raw Almonds (I LOVE nuts, but am working on not eating too many at a time)
Agave (had been hearing about it, but never tried it. I researched it when I get home and found that it's not so good. I better start using honey instead.)
Fresh peanut butter. Winco has a peanut butter machine. It's awesome! I love peanut butter and have been known to eat Skippy Natural with Honey by the spoonful. Not good for the thigh area...I'm switching to natural pb. I stirred in a tiny bit of agave to sweeten it and a little bit of salt. Yummy!
Since I love peanut butter so much, I love to eat it smeared on celery. Yum! So much better than on bread.
I also bought some "hearty healthy" butter substitute. Not sure how I feel about it. My parents have faithfully been eating smart balance for years.
And last but not least...Veggies: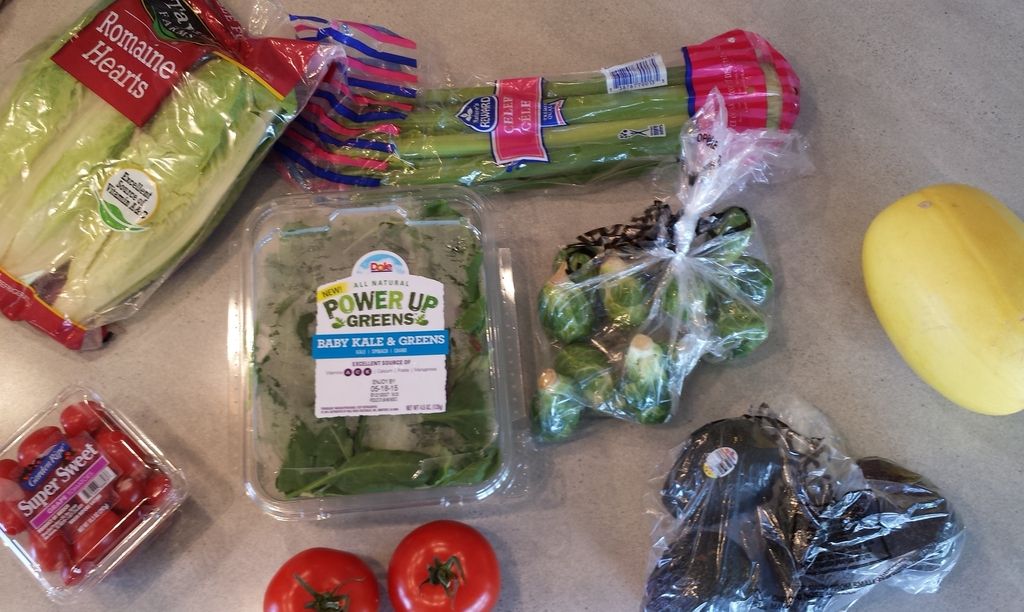 Baby kale, spinach, chard mix. To make lunch salads.
Cherry tomatoes. Snacking!
Celery. For my peanut butter.
Tomatoes. Yummy topping on anything.
Brussell Sprouts. I hate the way my house smells when I cook them inside. So I poke some holes in a disposable aluminum pan, toss the brussell sprouts in olive oil and salt and pepper and grill them on my grill outside.
Spaghetti squash. I LOVE it with a little spaghetti sauce and parm cheese.
Romaine lettuce. For my spinach-hating family.
Avocados. For EVERYTING! I love them. I eat them plain with salt and pepper. I eat them on salads, sandwiches, wraps, tacos, breakfast burritos, etc.
If you want to follow me (and give me virtual encouragement) I'll be posting more on my
Instagram account
with occasional updates here on the blog. Let me know if there is something you want to hear about. Like what I'm eating for lunch, etc. :)