My mom made my day this weekend. She ordered me this pan and had it delivered it to my house. I've been needing/wanting a bigger saute pan for a long time since my family eats more these days, but haven't bought myself one. Now I don't have to make meatballs in two diferent pans. Thanks Mom!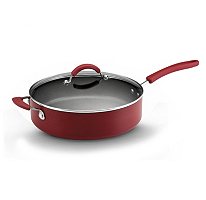 Menu time...
Monday:
porcupine meatballs
, rice, steamed broccoli
Tuesday: birthday boy dinner
Wednesday:
slow cooker tamale pie
Thursday: sloppy joes, oven fries
Friday:
Swedish meatballs
, mashed potatoes, ikea gravy
Saturday:
chicken tetrazinni
Sunday:
slow cooker pork and black bean soup
What are you making this week?